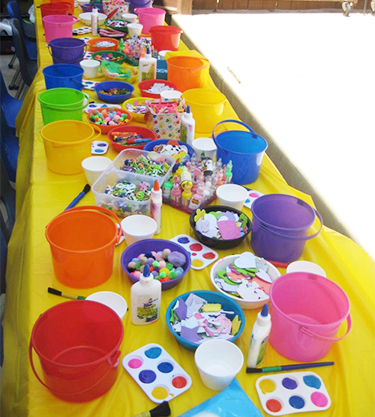 FREQUENTLY ASKED QUESTIONS
How do I book a party?
Select a date with Little Artist Party
Choose a party package
Choose craft(s)
Identify number of kids attending so appropriate number of crafts are provided (please be as specific as possible with the number of crafts requested as you will be responsible for each craft)
Leave the rest to us!
Do I have to pay a deposit?
Yes; if you anticipate having 30 or more kids, then a deposit of $100.00 will be required.
Can I choose more than two (2) crafts?
Yes.  The cost of each additional craft is $3.00+
Is the paint used washable?
Yes, if the paint is washed immediately with soap and warm water.  However, fabric paints are not washable. Smocks are provided to protect kids' clothing.
How far in advance do I need to book a party?
The earlier you book a party, the better chance of our availability.  The recommended time to book a party is approximately 3-4 weeks prior to the desired date.  The final count of the number of kids and crafts should be provided 1-2 weeks before the party in order to ensure all materials are available.
What happens if I do not use all of the crafts that I requested?
Unfortunately, since the requested crafts are specific to your respective party, you will be charged for the entire amount even if all crafts are not used.  Unused crafts are yours to keep; however, all materials, including unused materials, are the property of Little Artist Party.
Can the crafts be matched to the party theme?
Yes; simply provide the theme when booking your party and ideas will be presented.
How do I choose what I can paint?
We have over 100 crafts to choose from for example wooden trains, treasure boxes, cars, tiaras, crowns, flower pots, ceramic vases, piggy banks, etc. View them at the Party Crafts page.
Examples of crafts for your events:
Train Party – wooden trains and wooden whistles
Pirate Party – pirate hats and treasure boxes
Slumber Party – pillow cases and duffle bags
Princess Party – tiaras and wands
Christmas Party – Christmas stockings and ceramic ornaments
Spring Party – flower pots and birdhouses
Music Party – maracas and tambourines
Summer-themed Party – beach buckets and beach balls
How old do you have to be to paint?
We entertain children of all ages from ages 2 and up. However, we have also done several 1st birthdays where the parents have wanted Little Artist Party to provide entertainment for the older children. We have several age-appropriate crafts to choose from
What type of events do you attend?
Birthdays, Christenings, Holiday Parties (Halloween, Christmas, Easter, etc.), slumber parties, play-dates, scouting events, school events…and anywhere else kids congregate and need entertainment!
What are some of the available party extras?
Face painting
Glitter Art Tattoos
Cotton Candy Machine
Bubble Machine
Spin Art Machine
Character
Please see this page for details.