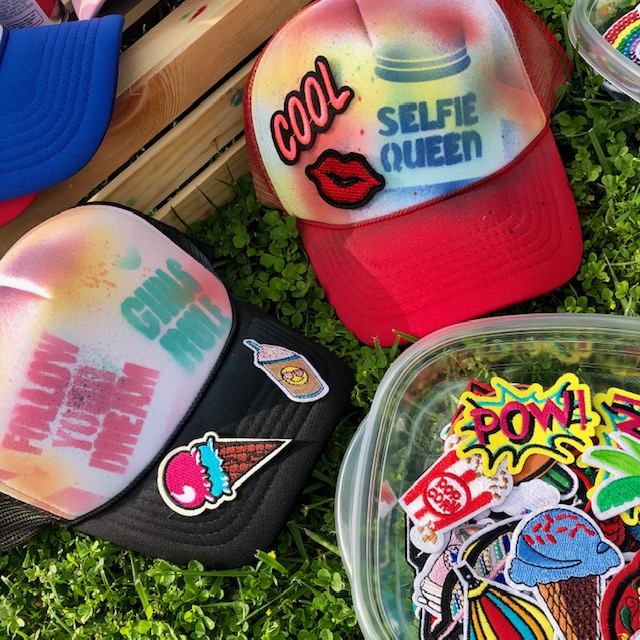 Spray Paint and Patch Party 
$550 for up to 17 children
Each additional child is $12
1.5 hours
2 Party Hosts
Decorate your own Project (see below)
Variety of Patches
Variety of Spray Paint Colors
Gloves
Face Masks
Smocks
Glitter tattoos
Table Covers
Setup and Cleanup
Kids love to live life in COLOR and what better way to celebrate than with our Spray Paint and Patch Party? Bring colors to LIFE with TONS of different design options!  Kids can paint their own project with patches, spray paints and glitter! How cool is that?
Projects to choose from: Trucker Hat, Makeup Bag, Pencil Case and anything else you can think of!
---
Add more fun to your Party!
Additional Party Host $75
Additional ½ hour $75
Face Painting 2 Hours $325
Air Brush Tattoos 2 Hours $325
Balloon Twisting 2 Hours $325
Sand Art
$450 for up to 17 children, each additional child $12
Jewelry Party
$450 for up to 17 children, each additional child $12
Tie Dye Party
$475 for up to 17 children, each additional child $12
Playdough and Bubbles Party
$450 for up to 17 children, each additional child $12
Candy Art Party
$450 for up to 17 children, each additional child $12
Canvas Painting Party
$450 for up to 17 children, each additional child $12
Building Bricks
$450 for up to 17 children, each additional child $12
Cookie Decorating
$450 for up to 17 children, each additional child $12
Cupcake Decorating
$450 for up to 17 children, each additional child $12
Donut Decorating
$450 for up to 17 children, each additional child $12
Slime Time Party
$450 for up to 17 children, each additional child $12